The Texas Law Hawk is back, with an axe, a motorbike and a humiliated dwarf.
In his first effort he bounced a
massive branch off some concrete
. In his
second
, he caught a fish with his bare hands, jumped through a screen door and gingerly leapt from a moving vehicle. Unsurpassable was the verdict, but how wrong we were. Because now the Law Hawk has a motorbike and he's not afraid to use it.
The opening scene is leant a solemn air by an electric piano which picks out the first few notes of the Star-Spangled Banner in a minor key while Fort Worth attorney Bryan Wilson wheelies in slow motion across a montage of American flags.
Boom! Suddenly there is an explosion, Wilson shout-growls "
Bryan Wilson, Texas Law hawk!
" and in quick succession a hawk screeches, Wilson strides towards the camera reiterating, "
Bryan Wilson, the Texas Law Hawk!
" and then he pulls another wheelie across the stars and stripes.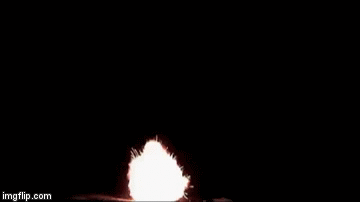 After squatting in the middle of a Texan road to scream "
Talons of justice
" and a crash-zoom onto a distracted hawk, Wilson appears on his bike, threatens, "
Due justice? Do wheelies!
" and jerks into a forest. He looks only slightly worried that he might flip over.
For reasons unclear to RollOnFriday, he then pops up in a wrestling mask, flexes and says something which is incomprehensible because his voice is muffled by the mask.
Meanwhile, a naked man with the head of a bear waves goodbye to guests while a policeman looks on.
The policeman,who appears to be intoxicated, arrests the guests for drink-driving, takes them to a wooden barn and hooks them up a dubious-looking breathalyser.
It looks like it's game over for the suspects, until one of them refuses to blow into the tube and makes a call on the dedicated Law Hawk telephone, with immediate and spectacular results.
After making his entrance through a plastic resin wall, things get (more) surreal as the Law Hawk pulls out an axe and smashes the breathalyser, revealing, um...
His work done, Wilson poses with giant brass wings and then leaps from the back of his tiny bike. Sandwiched between these strange images, a hawk does a triple-take because what just happened, did a lawyer really just jump through a wall on a motorbike with an axe and expose a little person holding an oversized pencil?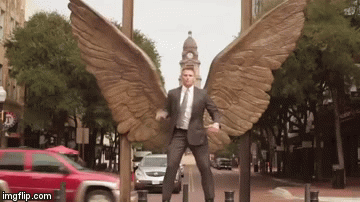 To fully appreciate the Talons of Justice and the screaming and the hawk crying and the explosions, turn up the volume of the video and call over all your colleagues. But not your clients, because they will move their business.